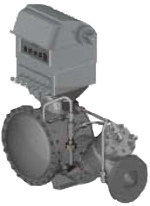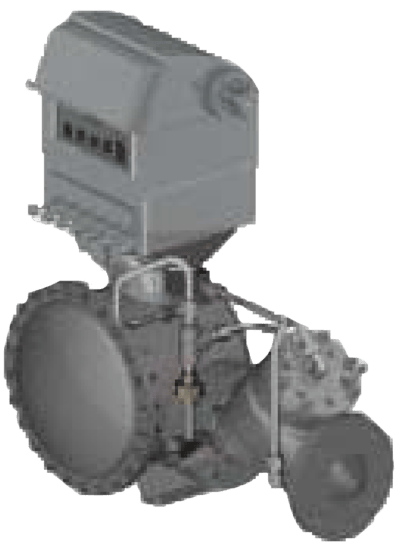 Images are representations only.
Description
The Model BV86 Brodie Two-Stage Control Valve is a two-stage hydraulically actuated control valve designed to utilize the flow stream as the source of power.

It is commonly used with a positive displacement flowmeter with a mechanical preset counter to provide shock-free two-stage closure.

Through the use of optional accessory pilots, mounted in series with the BV86 pilot, functions such as back pressure, pressure reducing, or rate of flow control can be obtained.

The main valve includes a strainer in the hydraulic pilot fluid supply line and a needle valve to control closing speed.

Low flow rate is controlled by the adjustable position of the hydraulic pilot.

High flow rate is not limited unless a flow limiting control function is specified.
Features
Modular construction - all internal parts including seat ring can be removed with the cylinder assembly without disturbing line connections
No diaphragms or stuffing boxes
45° body design assures high capacity
Positive shut-off
Uniform speed of response
Linear control characteristics
Inherently checks reverse flow
O-Ring plus metal-metal seat
Characterized ports for better low flow response
Specifications
Specifications
Enclosure, Body Material
Carbon Steel (ASTM -A216-GR-WCB)
Materials of Construction
Main Valve Cylinder: 630 (17-4) Stainless Steel
Main Valve Piston: Stainless Steel
Seat / Seal Material
Seal (O-Ring): Viton Standard
Seat Ring: Stainless Steel
Seat: Metal
Valve Capacity
2": 90 Cv/gpm
3" 190 Cv/gpm
4" 315 Cv/gpm
6": 700 Cv/gpm
Maximum Working Pressure @ 100 °F
150 lb ANSI: 285 psi
300 lb ANSI: 740 psi