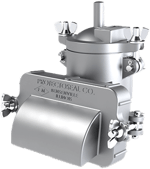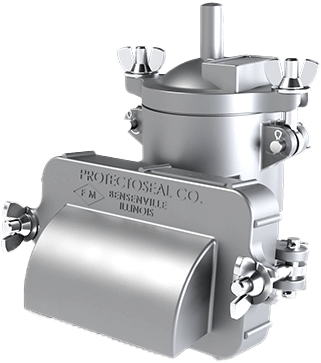 Images are representations only.
Description
The Protectoseal Series No. 830E-D Combination Conservation Vent and Flame Arresters are designed to provide pressure and vacuum relief to maintain tank's vapor space within safe operating parameters.

Vent settings minimize loss of product. Under pressure venting conditions, tank vapors are expelled to atmosphere.

Also serves as an End-of-Line Flame Arrester to protect tank's vapor space from external sources of ignition.

Maximum operating pressure is 1.1 bara (15.9 psiA).

The Series 830E-D Combination Vent / Flame Arresters are intended for use with vapors equivalent to IEC Explosion Group IIA (NEC Group D).

Arresters are not for use in stabilized burning situations.
Features
Sizes DN 50 (2") through DN 150 (6") 
Conforms to the latest ATEX Directive, ISO 16852 
Suitable for use with Explosive Group IIA (NEC Group D) 
Settings achieved by weight loading 
Operating temperatures up to +60°C (140°F) 
Extremely low leakage rates prior to set point 
Patented, FEP film "Air-Cushioned Seating" 
Low-leak pallet design - certified test reports
Factory tested / certified for leakage and correct settings 
Available in Aluminum, Ductile Iron, Steel and Stainless Steel