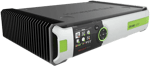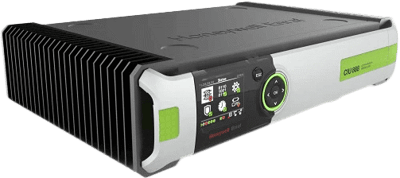 Images are representations only.
Description
Tank farm operators rely heavily on their tank gauging and inventory monitoring systems. Honeywell's communication interface, CIU 888, ensures the availability of accurate and reliable tank measurement and calculated inventory data to drive safety and efficiency in every tank farm application.

What is It?

The CIU 888 is a safe and reliable gateway between tank gauges and operational systems that manage inventories at bulk storage tank farms. It ensures reliable tank and product data is easily available to multiple users and that the right data is delivered to each user according to their task. Convenient tools promote the highest efficiency during commissioning and remote servicing of tank farm gauges. Compliance with relevant standards and legislation, meanwhile, is confirmed by authorities such as the Dutch NMI.

With the CIU 888, all measured and calculated data is continuously available for efficient operations, safe control of product movements and support for custody transfer and Weights and Measures (W&M) report printing.

How Does It Work?

CIU 888 integrates the field-proven concepts of Honeywell's CIU 880 solution into a single unit and takes data availability to the next level. All relevant tank parameters are continuously scanned and embedded tank

calculations provide tank inventory data according to API/ASTM standards. Traditional serial interfaces support existing applications without any change, while dedicated Ethernet connections provide open access. Furthermore, intelligent security measures prevent unauthorized access and loss of data.

The improved redundancy concept in the CIU 888, with continuously synchronized units, prevents process disruption, while guarding and maintaining the status and validity of data for W&M purposes. A smart user-concept includes a "Ring of Light" with an integrated LCD for a quick status overview. More detailed Web-based information is accessible remotely, supporting fast analysis and reducing service time.
Features
Maximizing uptime and improving site safety and efficiency
Lowering the cost of ownership
Enhancing operator effectiveness through alarm management, clear displays and convenient tools
Meeting demands for expansions and future system requirements with a scalable solution
Ensuring compliance with API/ASTM standards and Weights & Measures legislation.
Specifications
Specifications
Description
Field scanning and communication interface for tank inventory applications with optional embedded tank inventory calculation functionality.
Application
For all applications requiring accurate and reliable process and inventory data, such as refineries, tank farms and terminals. Data is suitable for custody transfer, safe product transfer and tank farm operation
Legal Metrology and Custody Transfer
Compliant to API-standards as stated by approval and certification by notified bodies as NMI.
Tank Database
80 tanks (one gauge per tank) 40 tanks (two gauges per tank)
Redundancy
Hot standby, real-time synchronization (redundancy controlled by Entis Pro, ENTIS or modbus host)
Supported Gauge Models
All GPU enabled tank gauges (such as 811, 813, 866, 854, 872, 873, 877, 894 , 990, 954) & Emerson TRL/2
Gauge Commands
• Lock test • Unlock • Block • Freeze • Calibrate (854, 894) • Density dip • Alarm test (SmartRadar) • Water dip • Density profile
Tank Scanning
6 field ports sequential and/or parallel, refresh rate 2-4 sec.
Inventory Calculations
Conform API MPMS Ch. 12.1
Tank Capacity Tables (strapping tables)
Up to 5000 straps per tank, 400000 straps total
Support API/ASTM Product Calculations
ASTM D1250-80; conform Vol. X—Tables, 5, 6, 23, 24, 53, 54, 59, 60 and 59, 60 Commodities   Product groups A, B, C & D
API MPMS Ch. 11.1 (2007; adj. to ASTM D1250-04 and IP-200)—Tables, 5, 6, 23, 24, 53, 54, 59, 60 and 59, 60;   Product groups A, B, C, D
API MPMS Ch. 11.2.4 (GPA TP-27)—Tables, 5, 6, 23, 24, 53, 54, 59, 60 and 59, 60; Product group E
ASTM D4311-83—Tables 1 and 2
ASTM D4311-96—Table 1
ASTM D4311-04—Tables 1 and 2
ASTM D4311-15
ASTM D4311M-15
ASTM D1555-16
ASTM D1555M-16
Support Other Product Calculations
EN15940-19 (Hydrogenated Vegetable Oil)
SGS-21 (Ammonia)
NBR15639-16 (Ethanol / Alcohol)
User configurable density table
User configurable CTL table
User configurable concentration table
Modbus TCP/IP and / or OPC UA TCP
EN15940-19 (Hydrogenated Vegetable Oil)
SGS-21 (Ammonia)
NBR15639-16 (Ethanol / Alcohol)
User configurable density table
User configurable CTL table
User configurable concentration table
Available Gauge Data
• Product level • Gauge status and alarms • Product temperature • Vapor temperature • Vapor pressure • Ambient temperature • Water level • Observed density (Servo, HTG, HIMS) • Temperature Profiles • Density Profiles • Product pressure • Floating roof levels
Available (Calculated) Inventory Data
Volume (TOV, GOV, GSV, NSV)
Mass (Liquid, vapor, total)
Reference density
Volume correction factor (VCF, CTL)
S&W, Vapor (4 types), DCF, TCF, manual CTL
Volume derived flow
Clock & Time Synchronization
External using Entis Pro, ENTIS or Modbus host systems such as DCS
Supported Engineering Units
Level m, mm, ft, in, in/16 and ft-in-16 (fis)
Temperature °C, °F
Density kg/m3, °API, lb/ft3, RD60, lb/USgal
Pressure kgf/cm2, kPa, psi(g), Pa
Volume m3, USgal, bbl, l(L)
Mass/Weight kg, lb, metric ton, long ton, US ton
Flow m3/min, m3/h, l/min, bbl/min, bbl/h, USgal/min, USgal/h, UKgal/h
Available Tank Correction Methods
CTSh3 • Floating Roof Weight • Temperature GRH • Pressure GRH • Servo Wire correction • Floating Roof Immersion Compensation (RIC)
Temperature and Density Profiles
Temperature profiles - Periodic scanning of temperature profiles data up to 16 points from BPM and TRL/2 gauges and presentation in Modbus output (RTU and TCP/IP) and OPC UA TCP output based on configuration.
Density profiles - Density profiles data collection up to 50 density points from Honeywell Servo gauges and presentation in Modbus output and OPC UA TCP output based on user command.
Serial Ports
2x modbus serial (+ 4 additional ports by using optional slots)
Supported Host Protocols
Serial modbus (Slave) • CIU 858 emulation • CIU 880 Prime/Plus emulation (serial modbus)
Ethernet/LAN
3x Modbus TCP/IP and / or OPC UA TCP ethernet (FTEA, FTEB and Office LAN)
Field Ports
6x option slots (of which 4 ports can be used for serial host connectivity)
Wireless Connectivity
ISA 100 via Honeywell WDM
Available Option Boards
Enraf BPM fieldbus, Serial modbus (master) and Serial GPU input and TRL/2 Fieldbus
Electrical Safety
IEC 61010-1:2010 (3rd edition)
EN 61010-1:2010
European Directives
CE: • 2006/95/EC (Low voltage directive) • 2004/108/EC (EMC) • CAN/CSA C22.2 No. 61010-1-12 • UL Std. No. 61010-1 (3rd Edition)
Self Monitoring & Diagnostics
Designed for compliance with NAMUR NE 107
Legal Metrology (Weight & Measures)
Physical Layer
2-wire Bi-phase mark modulated (MIL-STD-1553)
Typical No. Field Devices
10-15, depending on cable spec and length
Distance
10 km or more depending on cable characteristics
Type of Galvanic Isolation
Transformer coupled with ground shield