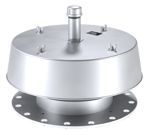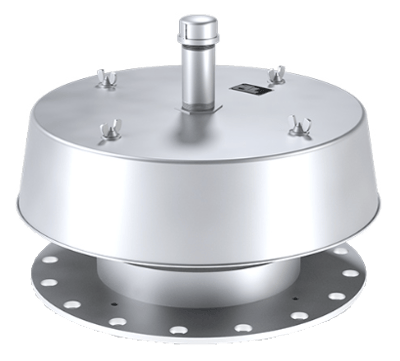 Images are representations only.
Description
Protectoseal's Series 52600 Emergency Pressure / Vacuum Relief Vents are designed to provide emergency relief capacity beyond that available through the operating vents on tanks.

In emergency situations (external fire involvement of the tank), normal venting devices may be too small to prevent over pressurization of the tank.

The Series 52600 provides the necessary pressure relief capacity to maintain the tank in a safe operating range.

The integral vacuum vent provides additional protection against tank collapse due to excessive vacuum in the vapor space.
Features
Sizes 16" (DN 400) through 24" (DN 600)
Provides emergency relief in the event of an external fire
Vents directly to atmosphere
Pressure setting achieved by weight loading
Vacuum setting achieved by spring loading
Leakage rate of less than 1 SCFH of air at 90% of set point
Reseats automatically when tank pressure is reduced
Conforms to the latest ATEX Directive
Patented, FEP film "Air-Cushioned Seating"
Low-leak pallet design - certified test reports
Available in Carbon Steel, Aluminum & Stainless Steel
Specifications
Specifications
Approvals & Certifications
Enclosure, Body Material
316 Stainless Steel
Aluminum
Carbon Steel
Flange Size - 16" (DN 400)
16" (DN 400) - PN 16
16" (DN 400) - 125#
Flange Size - 18" (DN 450)
12" (DN 300) - 125#
12" (DN 300) - PN 16
Flange Size - 20" (DN 500)
20" (DN 500) - 125#
20" (DN 500) - PN 16
Flange Size - 24" (DN 600)
24" (DN 600) - 125#
24" (DN 600) - PN 16