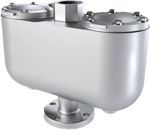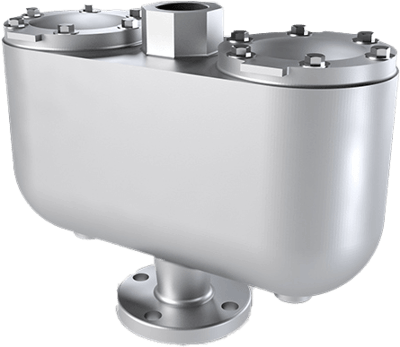 Images are representations only.
Description
The Protectoseal Series 8740 In-Line Conservation Breather Vents are used to conserve costly vapors and to protect a tank or vessel from damage caused by excessive pressure or vacuum accumulations during normal operation.

The design makes these vents particularly suited for mounting inside tank house installations.

Outlet pipes can direct vapors to some appropriate area for discharge. Locating the vent inside the building facilitates maintenance and eliminate hazardous roof top inspections.
Features
Certified flow curves validating flow characteristics of unit
Certified test report verifying specified settings and leakage performance
"Air-cushion" pallet design for low leakage performance of no more than 1 SCFH at 90% of the set pressure
Pallet assembly guides and center pallet stem guide to ensure proper alignment of pallet assembly on the seat and smooth lifting and reseating action
Automatic condensate drainage design to mitigate freezing, binding and clogging
Swing-bolt design facilitating inspection and easy maintenance
Serialized unit and associated weights for easy identification and traceability
Specifications
Specifications
Size
2" (DN 50)
3" (DN 80)
4" (DN 100)
Connections
Inlet Connection mates with 125# / 150# ANSI and DIN PN 16
Outlet Connection has Standard NPT Threads
Materials
Aluminum
Ductile Iron
Stainless Steel
Standard Setting Range
Pressure: 1 - 26 oz./in² | 4.31 - 112.04 mbar
Vacuum: 1 oz./in² | 4.31 mbar