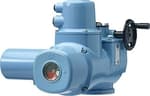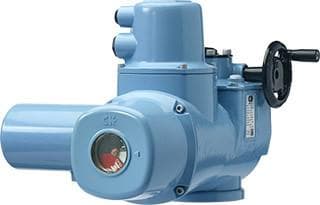 Images are representations only.
Rotork CK Range - Advanced Modular Design Electric Valve Actuator
Brand:
Rotork PLC
Description
The CK actuator range has been designed to meet the needs of the diverse actuation application required by the valve industry and its customers.

The modular design concept enables quick product configuration from stock to customer specification with a very short lead time.

CK actuator are designed for minimum user interaction.

Their primary goal is to provide safe and reliable actuation in harsh environments.

The modular CK product range offers simple, robust actuators (CK/CKR) suited too harsh environments with the option for two different control packages (Atronik and Centronik) to meet exact site requirements.

Atronik offers modest control and feedback for a simple integrated starter solution.

Centronik offers advanced control and feedback for more complex site system integration and increased flexibility through remote mounting.
Features
Modular design providing flexibility and configurability to suit your application
Safe motor-independent handwheel operation available at all times
Suitable for high temperature and strong vibration environments using separately mounted controls
Fast and efficient maintenance and commissioning due to plug and socket connections
Oil bath lubrication for extended life and mounting in any orientation
Local operation, configuration and commissioning with Centronik module, close coupled or remotely mounted up to 100 m from actuator
IP68 8 m for 96 hours - double-sealing as standard
Rapid and secure commissioning and configuration using local controls or setting tool
Increased protection by using independent torque and position sensing
Data extraction for analysis, diagnostics and asset management
Continuous mechanical valve position indication even without power
Hollow output drive to accept rising valve stems
Detachable thrust and non-thrust base options
Direct output torque range: 10 - 500 Nm (7 - 369 lbf.ft)
Max. torque with multi-turn gearbox: 10,800 Nm (8,000 lbf.ft)
Max. torque with quarter-turn gearbox: 205,600 Nm (151,600 lbf.ft)
Specifications
Specifications
Full Range of Rotary Motion
Environmental Protection
IP66
IP67
IP68
NEMA 4
NEMA 6
Ambient Temperature Range
-22° to 158° F (-30° to 70° C)
Communication
FOUNDATION Fieldbus
HART
Modbus
PROFIBUS
Approvals & Certifications