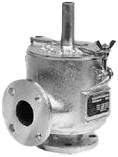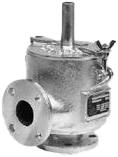 Images are representations only.
Description
Protectoseal's Spring Loaded Vents provide pressure and vacuum relief so that a tank's vapor space can be maintained within safe operating parameters.

Different versions of these vents allow for spring loaded pressure settings, spring loaded vacuum settings or combinations of spring loaded pressure/ weight loaded vacuum or weight loaded pressure/spring loaded vacuum settings.

Spring loading allows for higher pressure or vacuum settings than are available with conventional weight loading techniques.

Spring loaded vents are intended for use on tanks and vessels that have higher pressure or vacuum design ratings when compared to atmospheric storage vessels.

The vents are normally closed to minimize loss of product and open only to allow required pressure/vacuum relief.
Features
Alternate diaphragm materials 
Material certifications for castings 
Lower than standard minimum pressure and/or vacuum settings 
Steam jacketing available 
Manual or electronic indication of vent opening 
FEP coating 
Kynar® coating (Kynar® is a Registered Trademark of Arkema, Inc.) 
Special cleaning & packaging for the storage of ultrapure liquids