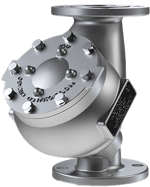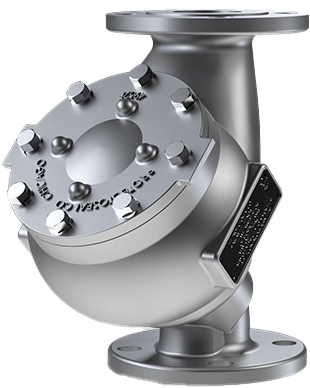 Images are representations only.
Description
The Protectoseal Series 4950 Vent-Line / In-Line Flame Arresters are designed to be installed in open vent pipes from storage or processing tanks, bleed lines or other vapor conveying lines.

The arresters are used to prevent propagation of an external flame source through the vent opening and into the tank.

These arresters provide maximum air-flow consistent with operating efficiency and safety.
Features
Sizes 1" (DN 25) through 12" (DN 300)
FM Approved in 1" through 12"
Listed by Underwriters Laboratories in 1" through 10"
Suitable for use with vapors equivalent to NEC 500 Group D, IEC Group IIA
Vertically mounted, circular plate-type flame arrester
Protects against fire and explosion
Minimizes pressure drop under normal operating conditions
Easy inspection and maintenance
Factory inspected prior to shipment
Available in Aluminum, Ductile Iron and Stainless Steel
Specifications
Specifications
Approvals & Certifications
Enclosure, Body Material
316 Stainless Steel
Aluminum 356
Ductile Iron
Flange Size - 10" (DN 250)
10" (DN 250) - 125# (Flat Face)
10" (DN 250) - 150# (Raised Face)
10" (DN 250) - PN 16
Flange Size - 12" (DN 300)
12" (DN 300) - 125# (Flat Face)
12" (DN 300) - 150# (Raised Face)
12" (DN 300) - PN 16
Flange Size - 2" (DN 50)
2" (DN 50) - 125# (Flat Face)
2" (DN 50) - 150# (Raised Face)
2" (DN 50) - PN 16
Flange Size - 3" (DN 80)
3" (DN 80) - 125# (Flat Face)
3" (DN 80) - 150# (Raised Face)
3" (DN 80) - PN 16
Flange Size - 4" (DN 100)
4" (DN 100) - 125# (Flat Face)
4" (DN 100) - 150# (Raised Face)
4" (DN 100) - PN 16
Flange Size - 6" (DN 150)
6" (DN 150) - 125# (Flat Face)
6" (DN 150) - 150# (Raised Face)
6" (DN 150) - PN 16
Flange Size - 8" (DN 200)
8" (DN 200) - 125# (Flat Face)
8" (DN 200) - 150# (Raised Face)
8" (DN 200) - PN 16