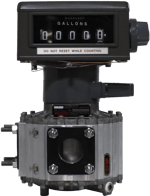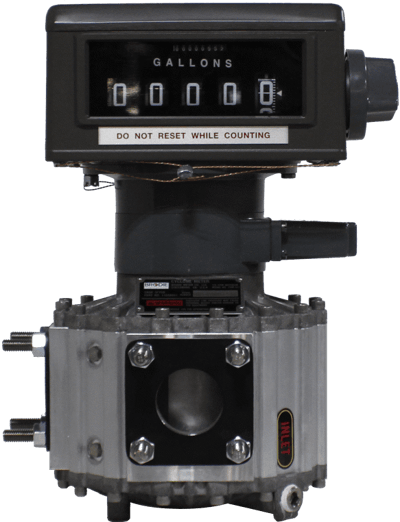 Images are representations only.
Description
The Model 2200 Cyclone Meter is a 2 inch, single case, positive displacement meter designed for the high speed measurement of petroleum products.

Its simple design utilizes the rotating crescent principle of operation which allows for high accuracy performance that exceeds requirements found in aircraft refueling, bulk plants, tank truck and general petroleum applications.
Features
Superior Accuracy 
Extremely Wide Flow Range 
Low Pressure Drop 
Non-Ferrous Construction 
90° Offset or In-line Flanges 
Long Service Life
Specifications
Specifications
Elastomers
Standard: Buna
Optional: Viton
Maximum Working Temperature (Product)
-40 to 150° F (-40 to 65° C)
Maximum Flow Rate
Continuous: 125 gpm (475 lpm)
Intermittent: 150 gpm (570 lpm)
Viscosity
100 cP (500 SSU) Max.. (Consult Factory for Higher Viscosity Applications.)
Process Connections
1-1/2" NPT, 2" NPT or British Standard Threaded Square Flange (900 Offset Confi guration)
1-1/2" ANSI, 125 lb Flat Face Flange (20 DIN 2576) Straight Flow Path
2" ANSI 125 lb Flat faced Flange (50 DIN 2576) Straight Flow Path
1-1/2" ANSI, 150 lb Raised Face Flange (20 DIN 2633) Straight Flow Path
2" ANSI, 150 lb Raised Face Flange (50 DIN 2633) Straight Flow Path
Engineering Units
US Gallons, Liters and dekaliters (Consult Factory for other units of measure.)
Strainers
It is recommended that all meters be protected by a strainer located directly upstream of the meter.
Recommended Strainer Mesh
Gasoline: 80 Mesh
Kerosene & Distillates: 60 Mesh
Diesel, Heat, & Fuel Oils: 40 Mesh
Shipping Weight And Volume (Approximate)
40 lbs @ 2 Cu. Feet
18 kg @ 0.23 Cu. Meters