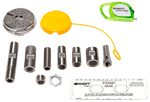 Images are representations only.
Axion Advantage® Stainless Steel Eye/Face Wash Upgrade Kit
Part Number:
AX13S
Brand:
Haws Corporation
Axion Advantage® Stainless Steel Eye/Face Wash Upgrade Kit
Description
The Haws® AX13S AXION Advantage® stainless steel eye/face wash system is designed to replace outdated, under-performing or in some cases, non-conforming installed emergency eyewashes with the medically superior AXION® MSR performance.

This revolutionary inverted flow design is the only product on the market that provides a Medically Superior Response consistent with all EMT, emergency room and doctors' office protocols by sweeping contaminants away from the vulnerable nasal cavity.

Traditional eyewashes irrigate from the outside edge of the eye back toward the nose, where contaminants can then be flushed into the nasal cavity through the lacrimal punctum, nature's ocular cavity drain.

Eyewash streams provide Zero Vertical Velocity™ stream engineering with even laminar flow for enhanced comfort, stability and effectiveness.

System includes the stainless steel AXION MSR eye/face wash head, the necessary connecting hardware, along with a tape measure, eyewash measuring gauge and written guidelines to assure installation complies with the ANSI Z358.1 standard.

System is designed to replace the eyewash head of most standard wall and pedestal mounted eyewash stations manufactured by Acorn®, Bradley®, Encon®, Guardian® and Speakman®.

The AXION Advantage system is ANSI compliant when installed correctly based on manufacturer guidelines and when tested against the ANSI Z358.1 checklist included with the product.

The materials provided offer complete ANSI compliance tools and instructions. At the current time, ANSI does not regulate product brands, models, or the interchange of product components.

Prop 65 Warning. For California Residents Warning: This product contains a chemical known to the State of California to cause cancer and/or birth defects or other reproductive harm.
Applications
Typical Applications
Perfect for installed emergency equipment that might be outdated, under-performing, or potentially out of compliance with the current ANSI Z358.1 standard. Specifically, this system can replace eyewash heads that flow too low or high, unevenly, or uncomfortably. The user will be assured their equipment will comply with ANSI emergency protocol using the best performing eye/face wash head on the market.