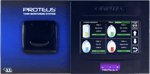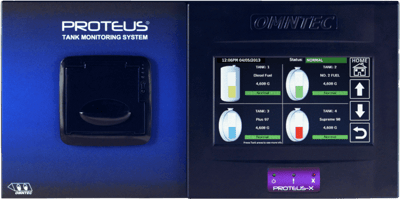 Images are representations only.
PROTEUS-X Tank Gauging And Leak Detection System
Part Number:
OEL8000IIIX
Brand:
OMNTEC Mfg, Inc
PROTEUS-X Tank Gauging And Leak Detection System
Description
The PROTEUS OEL8000IIIX is a comprehensive yet robust automatic tank gauging and leak detection system that simultaneously monitors product levels, water levels, temperature, and leaks in up to 40 tanks.

The PROTEUS OEL8000IIIX accepts up to 64 of OMNTEC's Bright Eye (BX Series) sensors for distinguishing hydrocarbons from water or for simply detecting the presence of a liquid.

A distinct advantage of Bright Eye sensors is that they are networked and utilize a 4 wire bus technology which results in significant savings on installation costs.

A built in microprocessor gives each sensor the ability to identify itself and it's location, and is displayed along with alarm conditions on the PROTEUS OEL8000IIIX's 7" color touch screen graphic display.

With advanced technology and enhanced features like it's user friendly 7" color touch screen, the PROTEUS OEL8000IIIX makes it easier than ever to navigate and interface with your Automatic Tank Gauge.
Features
Accepts up to 40 magnetostrictive probes
Accepts up to 64 Bright Eye sensors
Sensors networked using state of the art 4 wire bus technology
1 RS-232 port
1 RS-485 port
7-inch color touch screen graphic display
Large user-friendly icons
Easy to read leak and level alarms
SD memory card slot (for extended logging)
CITLD upgradeable
Modbus RTU & TCP upgradeable
Ethernet / TCP/IP standard
Built in web server
E-mail / Text capability standard
SIL rated operating system
Remote display option
Thermal printer option
VLD Standard
3 built in programmable relays
Up to 32 additional dry contact relays
Flash based non-volatile memory for program storage (does not require a battery)
Compatible with OMNTEC PC remote tank inventory monitoring
Specifications
Specifications
Input Power
100-240 Vac ± 10 % 50/60 Hz 50 watts
Audio Visual Controls
Display: Color 7-inch graphic display with touch-screen
Audible alarm: 85 dB piezoelectric horn
Printer: 36-character thermal
System status: 3 LED's (OK, Warning, Alarm)
Built In Relay Outputs
120 Vac @ 0.6 amp resistive 3 SPST Failsafe
Operating Temperature
20° F to 140° F
-7° C to 60° C