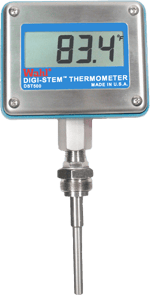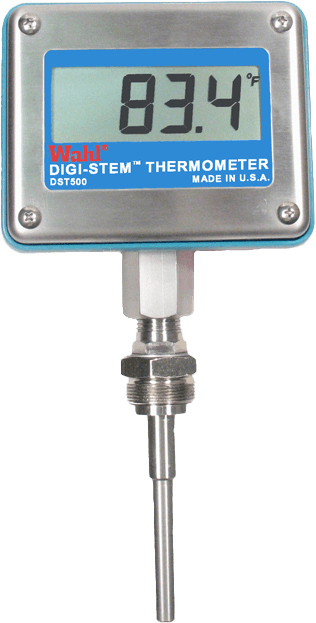 Images are representations only.
Description
Wahl's DST500 Series Digital RTD Thermometer Systems are wide range, high accuracy thermometers designed for many applications where accurate and reliable temperature monitoring and recording are important.

The Wahl DST500 Temperature Indicator System offers the highest precision temperature measurement technology - making it a great choice for your processing needs. It features a 1" high LCD display - readable from 30 feet away!

The DST500 also includes a field replaceable battery with a 2 year operational life, and is available in a variety of probe configurations including MIG standard tapered bulb for direct Drop-in MIG replacement.

The Adjustable Angle probe option allows easy adjustment of the display for the best viewing option.
Features
LCD Screen with easy to read 1 inch high digits. Resolution to 1/10th of 1°. Display works in ambient temperatures as low as -40°C / -40°F. 
Microprocessor Based For Flexibility.
 Low Ambient Temperature Coefficient. 
The Wahl DST500 & DST540 includes an exclusive compensation feature utilizing a programmable RO calibration coefficient for increased accuracy. This allows the meter and probe to be "matched" to each other, to guarantee an accurate system. 
The programmable RO allows any initial tiny probe error to be offset in the meter. 
Available In Rigid, Remote, And Adjustable Angle Configurations To Meet The Installation Requirements Of Your Process. 
User Selectable °F or °C 
Tamper Resistant. All adjustments require DSTCAL, our user friendly single point calibration software (sold separately). 
Adjustable meter update rate. Powered by a C cell sized Lithium Metal Battery. Two years nominal battery life with default update rate.
Available with mercury-in-glass standard tapered bulb style stem for direct drop-in replacement of MIGs in thermowells. 
Optional mounting bracket is available for mounting remote meters to walls, panels, pipes, etc. 
DSX500 & DSX540 has all the features above, with a built in programmable 4-20 mA Transmitter. This model is 24VVDC loop powered. Input power and transmitter output is connection via½" F NPT conduit port on side of case.  
DSX501 is same as DSX500 except output is from a waterproof 4-pin Turck connector in side mount conduit connector.