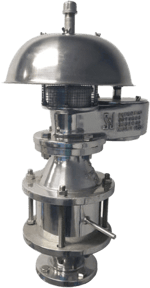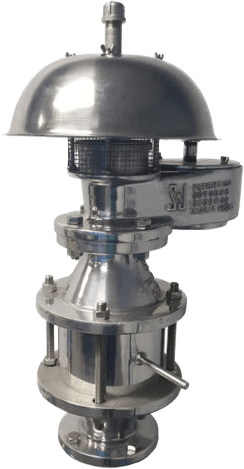 Images are representations only.
94570 Combination Conservation Vent and Flame Arrester
Brand:
Shand & Jurs
Description
The Shand and Jurs 94570 Combination Conservation Vent and Flame Arrester is a single, easy to configure package providing for pressure and vacuum relief, as well as positive flame stop on low pressure tanks containing flammable liquids or solvents having a low flash point.

The conservation vent features cushion seated diaphragms constructed of FEP Teflon for reliability and extended service life.

For high reliability, the pressure and vacuum pallets are both peripherally and center stem guided.

The Shand & Jurs Model 94020 Conservation Vent is designed utilizing over 90 years of experience in producing high quality and dependable conservation fittings.

Continued design improvements provide these vents with high efficiency, maximum flow capacity and minimum leakage.

The easily serviceable configuration and lightweight construction reduces maintenance and installation costs.

Diaphragms are air cushion seated and are constructed of FEP Teflon for reliability and extended service life.

Teflon diaphragms contribute to high resistance to adhesion of ice and gum formations, thus assuring protection against pallet sticking to the seating surface.

The body is self-draining and drip rings keep condensates from the seating surfaces.

The carefully engineered body, seat, and pallet assembly results in a superior combination of tight sealing and high capacity at low over-pressure with minimal blow down.

The unitized tube bank provides maximum flow while minimizing pressure drop. Both body and tube banks are available in numerous materials to meet the requirements of your site.

Expanda-Seal

Shand & Jurs "Expanda-Seal" option is available on all pressure pallet assemblies. This feature significantly reduces leakage.

The ballooning effect of the Teflon diaphragm effectively seals the valve.

The "Expanda-Seal" feature ensures less than .5 SCFH of air at 95% of the set point.
Features
+/- 0.5 mm Accuracy
Frequency Modulated Continuous Waveform
Crystal Controlled Phase Lock Loop Technology
Ultra High-speed Floating Point Digital
Signal Processor for Continuous Calibration
Density Measurement/Hybrid Gauge
Antennas Tailored for Specific Applications
Wireless Mesh Level Gauging Compatible
Specifications
Specifications
Sizes
2'', 3'', 4'', 6'', 8'', 10" & 12"
Settings
Standard Pressure & Vacuum: 1/2 oz./in.2 (.865 in. W.C.)
Expanda-Seal Pressure Setting
1.5 oz./in.2 Min. (Consult Factory for lower settings)
Maximum Setting W/O Modification
2": 16 oz./in.2 8 oz./in.2
3": 16 oz./in.2 9 oz./in.2
4": 16 oz./in.2 11 oz./in.2
6": 12 oz./in.2 12 oz./in.2
8": 10 oz./in.2 14 oz./in.2
10": 8 oz./in.2 16 oz./in.2
12": 6 oz./in.2 16 oz./in.2
Temperature Range
Body and Seal -40°F to 220°F. Options for Process Temperature Ranges of -300°F to 500°F
Diaphragm
FEP (Fluorinated Ethylene Propylene), FKM (Fluoroelastomer), NBR (Nitrile-Butadiene), PFA (Fluoroplastic Film)
Service and Body Material
Normal: Cast Low Copper Aluminum Low Temperature: Cast Low Copper Aluminum Severe: Cast Iron, Ductile Iron, Cast Steel, Cast 316 Stainless Steel Integral Seats: Same as body; AL, 316 SS, CS with 316 Stainless Steel seat overlay
Replaceable Seats
Aluminum, 316 Stainless Steel, 316 SS Teflon Coated
Type of Flange Connection
Screwed or flanged for: 2" & 3" sizes Flanged for: 4", 6", 8", 10" & 12"sizes Raised face flange available, except for aluminum body material.
Options Available
Flame Snuffer for all sizes (open vent) and material, except low temperature service. Closed vent for all sizes and materials. Material substitutions as required. Cleaning for LOX/LIN service.
Flange Rating
To match drilling of ANSI 125/150 lb flat face or 150 lb raised face (Cast Aluminum body option available with flat face only).
Body
Cast Iron, Cast Steel, Cast Aluminum, 304 Stainless Steel or 316 Stainless Stee
Hardware
18-8 Stainless Steel Standard, 316 Stainless Steel
Tube Bank
Aluminum with Aluminum Shell; 304 Stainless Steel with Steel Shell; 304 Stainless Steel with 304 Stainless Steel Shell; 316 Stainless Steel with 316 Stainless Steel Shell