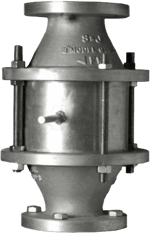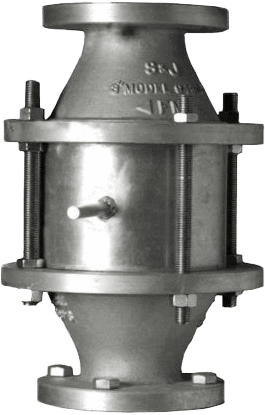 Images are representations only.
94306 Vertical End Of Line Flame Arrester
Brand:
Shand & Jurs
Description
The Shand & Jurs Flame Arresters are designed to provide a positive flame stop on low pressure tanks, storage tanks and anaerobic digesters containing flammable liquids, solvents or gases having a low flash point. The 94306 not only provides exceptional protection against propagation of flame from external source, but also offers maximum flow capacity.

Shand & Jurs Flame Arresters are generally installed with pressure-vacuum vents, or in-line free vent to atmosphere. The tube bank design consisting of a spiral-wound crimped ribbon around a solid core, maximize flow capacity with minimum pressure drop. This unique design meets FM Factory Mutual approval for all sizes and material options.

Standard construction includes light weight cast aluminum, cast iron, cast steel, 304 stainless steel and 316 stainless steel body materials suitable for most environments. Tube bank is available in aluminum, 304 stainless steel and 316 stainless steel as standard. For highly corrosive and severe conditions, special materials and coatings are available.

Available with flat face flanges for aluminum only or flat face raised or face flanges for cast steel, cast iron, ductile iron and stainless steel to match ANSI, EN1092-1, or JIS 10K connections.

Periodic inspection, maintenance and replacement of the tube bank is easily accomplished by simply removing tie-bolts and expanding the remaining jack screws. Once the upper and lower body sections are expanded, the tube bank and shell are easily removed with the aid of a handle.
Features
Unitized tube bank design
Maximum protection and efficiency with minimum pressure drop
Wide range of standard construction materials
Easy inspection and maintenance, due to simple removal of tube bank on site
FM Approval, 2'' to 12" inclusive
NEC Group D gas applications
Location within 10 pipe diameters of potential atmosphere ignition source based on FM requirements
Optional Insulation Jackets Available
Specifications
Specifications
Sizes
2", 3", 4", 6", 8", 10" and 12"
Flange Rating
To match drilling of ANSI 125/150 Ib. flat face or 150 Ib. raised face (cast aluminum body option available with flat face only). EN 1092-1 and JIS options.
Approval/Gas Application
FM (Factory Mutual), NEC Group D Gas
Body
Cast Iron, Cast Steel, Cast Aluminum, 304 Stainless Steel or 316 Stainless Steel
Hardware
18-8 Stainless Steel Standard, 316 Stainless Steel
Tube Bank
Aluminum with Aluminum Shell; 304 Stainless Steel with Steel Shell; 304 Stainless Steel with 304 Stainless Steel Shell; 316 Stainless Steel with 316 Stainless Steel Shell