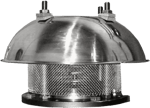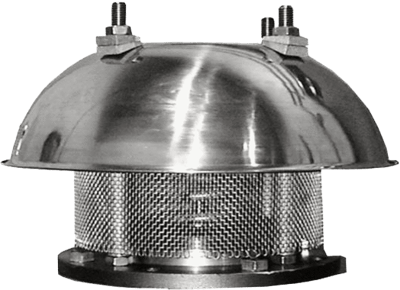 Images are representations only.
94140 Spring Loaded Pressure Relief Vent
Brand:
Shand & Jurs
Description
The Shand & Jurs Model 94140 Spring Loaded Pressure Relief Vent reduces excessive venting of product in liquid storage tanks.

Available for open or closed vent systems, this vent provides pressure relief by either venting vapor into the atmosphere or piping emissions in a closed loop system.

Available in 2"- 12" sizes, this vent is all weather for all materials and services. Higher pressure settings are accommodated using a unique method of spring loading which ensures highly reliable operation and reduces excessive venting of product at a relatively low cost.

Pressure settings range from 1 psig through 15 psig for all sizes except 12″ which has a maximum of 12 psig.

Flange connections match ANSI 150 lb. raised face or flat face for cast iron, steel and stainless steel construction.

Aluminum construction comes in ANSI 150 lb. flat face flange only. Open vent body and seat material is the same except for steel which has a SS overlay seat. Closed vent model can either have Aluminum or SS seat.

The pallet to seat diaphragm is cushion seated Teflon for long service life and optimum reliability. This diaphragm helps to ensure a high resistance to any ice and gum formations, prevents the pallet from sticking to the seat.

The carefully engineered body, seat and pallet offers a superior combination of tight sealing and high capacity at lower over-pressure.

An Expanda-Seal is available on the pressure pallet to assure minimal leakage up to 95% of set pressure.

One of the most important features which should be noted in the Model 94140 design is the variety of construction materials available.

A wide range of highly corrosive and toxic products common to the petroleum, petro-chemical and chemical industries, require that a pressure vent be able to withstand this environment and still function reliably.

For few instances where our standard materials may not be suitable, optional materials are readily available.

Standard materials offered are aluminum, cast iron, cast steel and 316 stainless steel. Standard seats are aluminum and 316 stainless steel.
Features
Aluminum, cast iron, steel or stainless steel
Pressure range between 1 and 15 PSIG, 12 PSIG Max. for 12" size
All-Weather Teflon Coating available
Guided pressure pallet assures smooth lift and closure
Unique diaphragm construction assures positive seal and minimal blowdown
Easy inspection of internal components
Withstands variety of materials including highly corrosive and toxic products
Pallet lip design contributes to high flow characteristics
Specifications
Specifications
Standard Pressure Setting Range
1-15 psig for 2"-10" sizes 1-12 psig for 12" size
Flanges
Matches valve size 150 lb ANSI compatible. EN 1092-1 and JIS 10K sizes available. Aluminum available in Flat Face only.
Temperature Range
Process Temperature ranges for body material: -65OF to 250OF (Aluminum) -65OF to 350OF (316 Stainless Steel) -20OF to 350OF (Carbon Steel) -20OF to 325OF (Iron)
Body
Aluminum, Iron, Steel or 316 Stainless Steel available
Hood
Stainless Steel for 2", 3", 4", 6" & 8" Aluminum for 10" & 12"
Seat
Aluminum or 316 Stainless Steel
Diaphragm
FEP (Fluorinated Ethylene Propylene), FKM (Fluoroelastomer), NBR (Nitrile-Butadiene), PFA (Fluoroplastic Film)