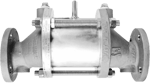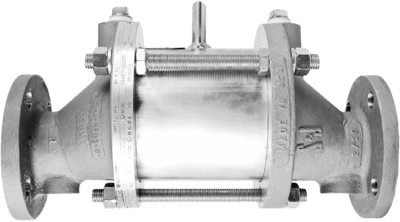 Images are representations only.
94407 Horizontal Inline Deflagration Flame Arrester
Brand:
Shand & Jurs
Description
The Shand & Jurs 94407 Horizontal Inline Deflagration Flame Arrester is designed to provide a positive flame stop in horizontal gas piping systems containing flammable vapors having a low flash point.

The 94407 not only provides exceptional protection against propagation of flame from external source but also offers maximum flow capacity. It is specifically designed to prevent liquid accumulation in the tube bank assembly.

The tube bank design, consisting of a spiral-wound crimped ribbon around a solid core, maximizes flow capacity with minimum pressure drop.

The standard flame arrester is Factory Mutual (FM) approved to meet the ATEX application requirements per EN 12874 and ISO 16852.

Periodic inspection, maintenance and replacement of the tube bank is easily accomplished by simply removing tie-bolts and minimally expanding the remaining jack screws.

Once the upper and lower body sections are expanded, the tube bank is easily removed with the aid of a handle.

Standard body construction includes light weight cast aluminum, cast iron, ductile iron, cast steel, 304 stainless steel and 316 stainless steel body materials suitable for most environments.

Tube bank is available in 304 stainless steel or 316 stainless steel as standard. A complete range of sizes from 2'' [50 mm] through 12'' [300 mm] are available with flat face or raised face flanges to match ANSI, EN1092 or JIS connections.

For highly corrosive applications, body and tube bank construction of Duplex SS, Hastelloy C, or Alloy 20 are available.

Temperature monitor device to be installed on unprotected side of Tube Bank.

Temperature monitor devices available. Consult Factory.
Features
ATEX EN 12874 Approved
ISO 16852 Approved
Unitized tube bank design
Maximum protection and efficiency with minimum pressure drop
Wide range of standard construction materials
Easy inspection and maintenance, due to simple removal of tube bank
Complete range of flange sizes from 2'' (50 mm) to 12'' (300 mm) ANSI, EN1092, JIS. Consult factory for larger sizes
Specifications
Specifications
Sizes
2", 3", 4", 6", 8", 10" and 12"
Max. Operating Pressure
Sizes 2"-6" 1.1 BARA (16.20 psia) 8"-12" 1.09 BARA (15.95 psia)
Flange Rating
To match drilling of ANSI 125/150 Ib. flat face, raised face flange. EN 1092 PN 10/16, and JIS 10K options.
Approval
ATEX Directive 94/4/EC and EN 12874, ISO 16852 (Short Term Burn) NOTE: Aluminum and Cast Iron bodies are only approved for ISO 16852.
Body
Carbon Steel, 304 Stainless Steel, 316 Stainless Steel, Aluminum, Cast Iron, Ductile Iron, Duplex Stainless Steel, Hastelloy C or Alloy 20
Tube Bank
Carbon Steel, 304 Stainless Steel, 316 Stainless Steel, Duplex Stainless Steel, Hastelloy C or Alloy 20
Hardware
Carbon Steel, 304 Stainless Steel, 316 Stainless Steel, Duplex Stainless Steel, Hastelloy C or Alloy 20
Gaskets
High Temperature Synthetic Composition